IPL purple cap list: Among many other awards and accolades that players are given at the end of an IPL season, the purple cap is one of the most prestigious ones. A purple cap is given to the highest wicket-taker in an IPL season. The idea of an IPL purple cap came into existence after the orange cap.  Let us find out about the IPL purple cap list 2008 to 2023.

T20 cricket has always been favorable to the batsmen. A white ball that doesn't swing much, shorter boundaries, field restrictions are some rules that swing the favor hugely towards the batters in this format. The advent of awarding the highest wicket-taker in an IPL season with a purple cap is a way of appreciating the bowlers. 
The updated IPL purple cap list 2008 to 2023 has been provided in the following section. 
Also Read: TATA IPL Points Table 2023
Sohail Tanvir – Rajasthan Royals (2008)
Sohail Tanvir from Pakistan became the first player in IPL to be awarded the purple cap in 2008. Tanvir, with his performance, helped Rajasthan Royals clinch the inaugural IPL trophy. He picked up 22 wickets from 11 games he played for the franchise. He held the record of picking up 6 wickets for 14 runs in the IPL until Alzarri Joseph made it his when he claimed 6 wickets for 12 runs. Interestingly, Tanvir remains the only Pakistani bowler to hold the purple cap in the Indian Premier League.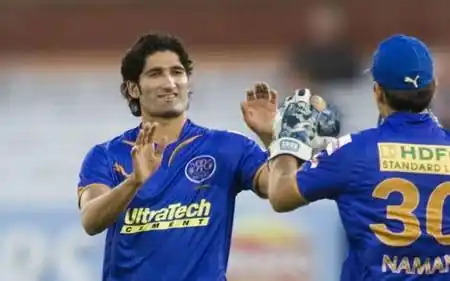 RP Singh – Deccan Chargers Hyderabad (2009)
RP Singh became the first Indian bowler to win the purple cap while playing for the now-defunct Deccan Chargers Hyderabad in 2009. The leftarmer made full utilization of the bouncy tracks in South Africa and bagged an impressive 23 wickets from 16 games. Singh picked up those wickets at an impressive economy of 6.98 and a healthy strike rate of 15.5. 
Pragyan Ojha – Deccan Chargers Hyderabad (2010)
Pragyan Ojha winning the purple cap in 2010 while playing for the Deccan Chargers Hyderabad team was the first instance of a spinner winning the coveted prize. It changed the dynamics of the game, which until believed in pace and skill to rattle the opposition. His variation in speed and length saw him pick up 21 wickets in 16 games with a strike rate of 16.8 and an economy of 7.29.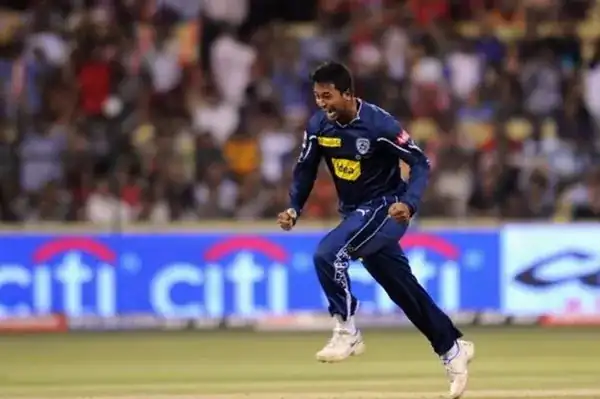 Lasith Malinga – Mumbai Indians (2011)
Lasith Malinga from Sri Lanka was already having a glorious year in international cricket. After helping Sri Lanka reach the 50-over World Cup final, he capped it off with an exceptional IPL season. Malinga broke the record for the highest number of wickets taken in an IPL season in 2011. He finished with 28 wickets from 16 games which also included a 5-er. He took a wicket every 13.5 balls. His economy of 5.95 is still the best among bowlers who have ever won the purple cap in the IPL. 
Morne Morkel – Delhi Daredevils (2012)
Although Delhi Daredevils failed to qualify for the finals of the IPL 2012 despite being on the top the whole season, they had something to cheer about. Their pacer Morne Morkel emerged as the winner of the IPL purple cap after scalping 25 wickets from 16 games. Morkel struck a wicket every 15.1 balls and his economy was also sound considering the hard overs he had to bowl – 7.19. 
Dwyane Bravo – Chennai Super Kings (2013)
Dwyane Bravo redefined the importance of a classy bowler required to bring the opposition down. The Caribbean pacer had an answer to every batsman he was thrown against and eventually emerged as the top wicket-taker in the competition. Bravo managed to scalp 32 wickets from 18 games at an economy of 7.19. En route to his magnificent performance, Bravo broke Malinga's record for the most number of wickets in a single IPL season. His strike rate of 11.7 was also pretty impressive. 
Mohit Sharma – Chennai Super Kings (2014)
Chennai Super Kings rising star Mohit Sharma was adjudged the winner of the IPL purple cup in 2014. Sharma had a bag of tricks that he employed during this season that saw him end up with 23 wickets in the tournament from 16 games. His strike of 14 and the economy rate of 8.39 were also very impressive. 
Dwyane Bravo – Chennai Super Kings (2015)
Phew! Another CSK guy. The year 2015 saw Dwyane Bravo snatch the purple cap, that went to his fellow teammate Mohit Sharma, and become the first bowler to win the award twice. He threw a bag of tricks toward the batters and eventually ended the season with 26 wickets from 17 games. Although his economy of 8.14 was a bit on the higher side, his strike rate of 12 was pretty impressive during the tournament. 
Bhubaneshwar Kumar – Sunrisers Hyderabad (2016 & 2017)
The SRH pacer was at his best during IPL 9 and 10. Bhubaneshwar Kumar emerged as the winner of the purple cap in two consecutive IPL seasons. He still is the only bowler who has achieved this feat in consecutive seasons. Kumar grabbed 23 wickets from 17 games in 2016. He bettered his performance the following season by picking up 26 wickets in fewer games (14). All this while his economy did not go above 7.5. Impressive stuff!
Andrew Tye – Kings XI Punjab (2018)
Andrew Tye became the first Australian bowler to receive the purple cap award at the end of IPL 2018. He had already created a big bidding war during the auctions earlier and he did not disappoint. Tye picked up 30 wickets at an impressive strike rate of 14 which also included three 4-fers. 
Imran Tahir – Chennai Super Kings (2019)
Imran Tahir was simply outstanding during IPL 2019 in which he won the purple cap. Tahir made a mockery of the opposition batters with his speed and variation. Eventually, he succeeded in picking up 26 wickets with a healthy economy rate of 6.69. During the process, he also managed to pick up two 4-fers. 
Kagiso Rabada – Delhi Capitals (2020)
Kagiso Rabada became the 2nd South African to win the IPL purple cap after Imran Tahir. Rabada was merciless and pinpoint-accurate on his way to accumulating 30 wickets from 17 IPL games. He eventually finished as the tournament's highest wicket-taker – only 3 wickets shy from breaking Bravo's record. 
Harshal Patel – Royal Challengers Bangalore (2021)
Just when IPL viewers had thought that Bravo was the best exponent of change of pace, in came a young lad from Haryana and everyone stood up and took notice of him. He is Harshal Patel. Harshal came into the tournament with nothing to lose and he delivered and made the tournament his own. His change of pace in the sluggish tracks of UAE made life very difficult for the batters. Harshal eventually managed to equal the most number of wickets taken in an IPL season – 32 from 15 games at an impressive economy of 8.14. 
Yuzvendra Chahal – Rajasthan Royals (2022)
After a hiatus of 13 years, a bowler from Rajasthan Royals finally managed to get his hands on the coveted purple cap – Yuzvendra Chahal. Chahal became the leading force in RR's bowling unit. Whenever he was summoned by his captain, more often than not, he responded with a wicket. Chahal finally managed to scalp 27 wickets from 17 games at an impressive economy of 7.75. It included a 4-fer, 5-fer and a famous hat trick against the Kolkata Knight Riders in a league game.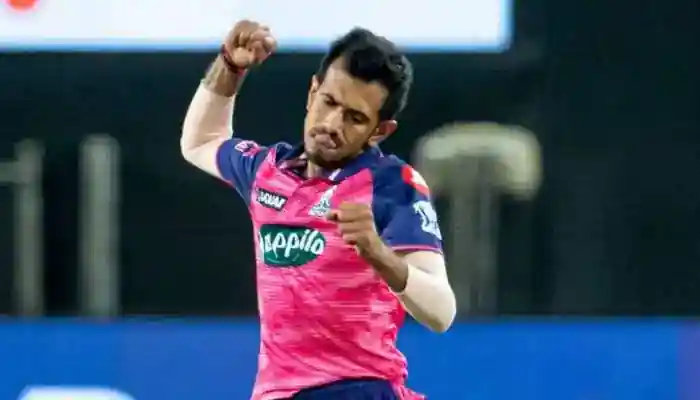 Mohammad Shami – Gujarat Titans (2023)